Downsizing your home can be stressful.  Many simply don't know how to start.  Our downsizing services are often used by seniors moving into a retirement lifestyle or seniors looking to downsize as they move into assisted living facilities.
Using an experienced interior design firm with experience in helping seniors downsize will dramatically reduce the stress of this difficult transition.
Help with Senior Downsizing
While it is quite a change, downsizing can also mark the beginning of a new fun and exciting phase of life.  There are a lot of decisions to make and many carry an emotional element with them.   Whether you are downsizing or you are working through your elderly parents downsizing process, we can help ease this transition.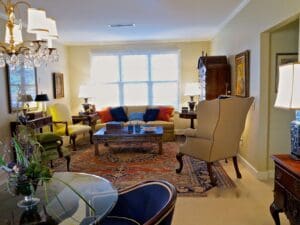 Downsizing Services
Meet with the client and family
Create a catalog of existing furniture
Create a new interior design for a smaller home or apartment
Interface with retirement or assisted living facility
Select colors, materials, and accessories for the new home
Coordinate the distribution and shipping of existing furniture and accessories
Determine which pieces go to the new home, family members, auctioneers, storage, or designated charities
Manage the move to smaller living space including packing, transporting, and complete setup of the new home
Take some of the stress out of downsizing to a smaller home.  Contact us to learn how we can help.
"We want you to know how very much we love everything that you have done for us!! Your talent & your wonderful personality are an unbeatable combination. You have made a very difficult experience for us one that has been a real joy & a lot of fun. We could not be more pleased than we are here tonight!"