Re-Design Interior Spaces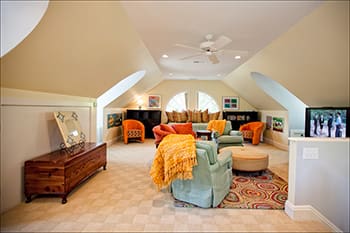 Hiring an interior designer for a home remodel or home interior design does not mean that you have to start from scratch. Our professional interior designers can work with your existing furnishings and accessories to create a totally new and fresh look for your home.
The team of interior designers at Marta Mitchell Interior Design can help you turn a kids room into an office, a spare bedroom into a craft room, or a basement into an entertainment room.  Marta and her team have extensive experience with home renovations and home re-designs.  We'll show you 3D renderings of room re-design ideas so help you envision what the remodel will look like.  Our home interior redesigns transform spaces into unique, creative, yet functional living areas.
Re-designing a room in your home may include:
Re-purpose rooms such as switching a study and dining room
Incorporating new colors to coordinate but change your current color scheme
Moving furniture to make better use of the space and flow of the room
Rehanging artwork for more visual appeal
Rearranging book shelves and accessories