By: Eddie Huffman
SUNDAY, JANUARY 29
Greensboro News & Record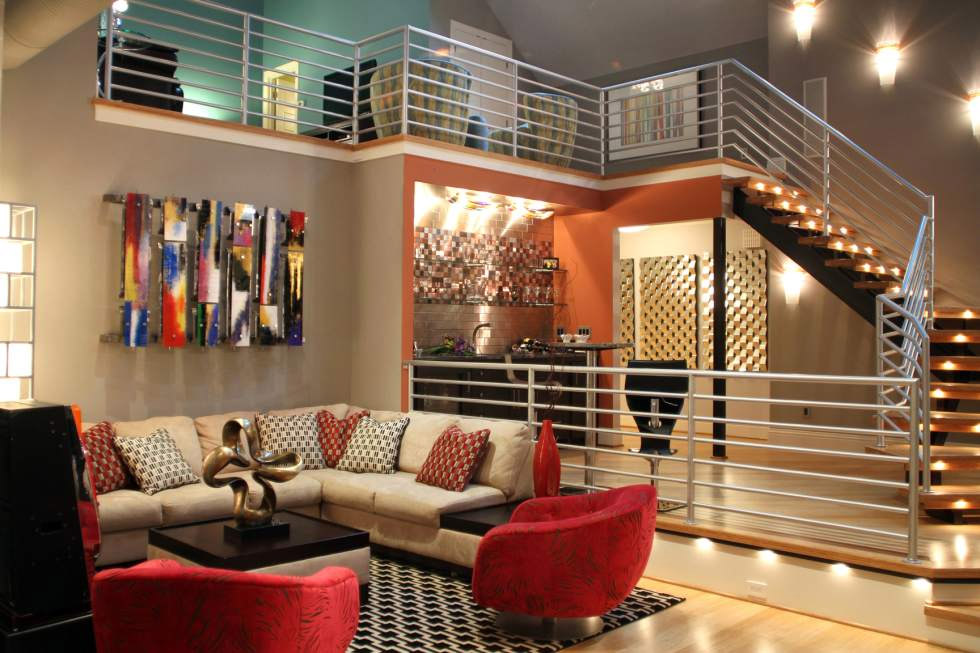 Marta Mitchell helped transform the townhome, which features an interactive putting green, jukebox and hand-painted murals. Doors cover the dormer windows, and one holds a dartboard.

GREENSBORO – From the street it looks like an average upscale townhouse. But the ultimate clubhouse lies just beyond the front door, with a home theater, Tiki patio bar and upstairs game room beneath a vast cathedral ceiling.
Interior designer Marta Mitchell worked with Gary Jobe Builder and Griffin Renovations to radically rework the Lake Jeanette home.
"I really like designing for living," she says. "I don't like to design museums. I like for a place to be comfortable."
The owner of the home, a local businessman and parent with a passion for fitness and travel, lived in the home for about a year before he brought Mitchell in to spice it up. The Brazil native has run her own interior design and space-planning business in Greensboro for more than 25 years (martamitchell.com). Her client gave her permission to showcase her work, but asked her not to use his name.
"He loves this place," she says. "He's proud of it, but he's modest."
The client is originally from New York and asked Mitchell to give his home an urban flair. When she first started working with him more than a year ago, she found a sparsely furnished, traditional home.
"He said, 'That's not what I want.' He said, 'I like big cities; I want something more contemporary, more fun, metropolitan,' " Mitchell says.
Contemporary art and mosaic light fixtures from Italy accent comfortable sofas and chairs with bold, swirling designs. A red-cloth pool table divides the living room from the kitchen. Several rooms have unusual ceiling fans, from the angled acrylic blades of the fan in the exercise room to the aptly named Big Ass Fan upstairs. (Yes, that's a brand name.)
Universal remotes in nearly every room control the TVs, lights, audio, theater chairs and window shades. The master bath has an iPod docking station built into the wall outside the shower, and the shower can be programmed to deliver the user's preferred water jets and temperature.
The living room showcases a colorful, abstract city street scene, an original fused-acrylic painting done on commission for the client by Toronto artist Tibi Hegyesi.
"That was an ordeal to get something that size, that fragile to travel intact," Mitchell says.
Flat-screen TVs hang on four walls of the home, while projection TVs provide entertainment in the game room and theater.
Custom-designed bars can be found downstairs near the pool table and upstairs in the game room. Competitors can try their hand at foosball, ping-pong, darts, and a game called Putting Challenge that simulates 36 holes of golf.
Greensboro artist Don Morgan, owner of Artworks Decorative Painting, created original murals. He was commissioned to paint simple, cartoonish scenes of a golf course and a bar to liven up the game room.
"He at first struggled with that, because he does very beautiful, realistic work," Mitchell says.
Mitchell herself designed a piece of lighted art with colorful panels that echoes Piet Mondrian and hangs near the ping-pong table. In a home where no expense was spared, the standard-issue ping-pong table won't be around long.
"He's going to get something more fun and funky — maybe a glass-top one," Mitchell says.
The open stairway connecting the game room to the guest bedroom loft was custom built.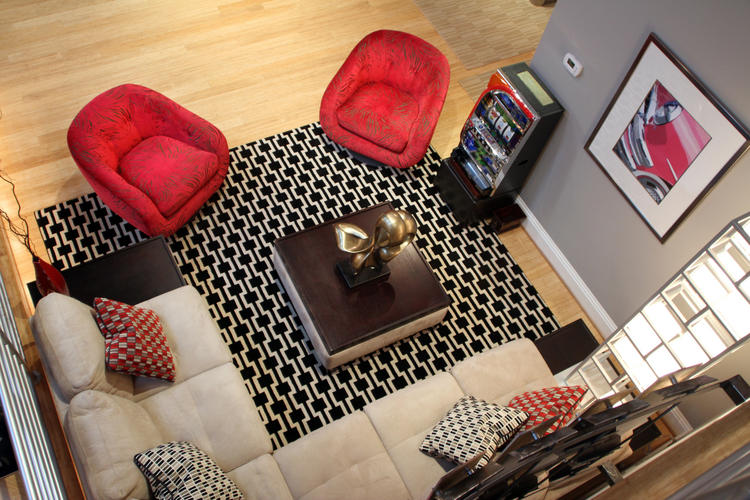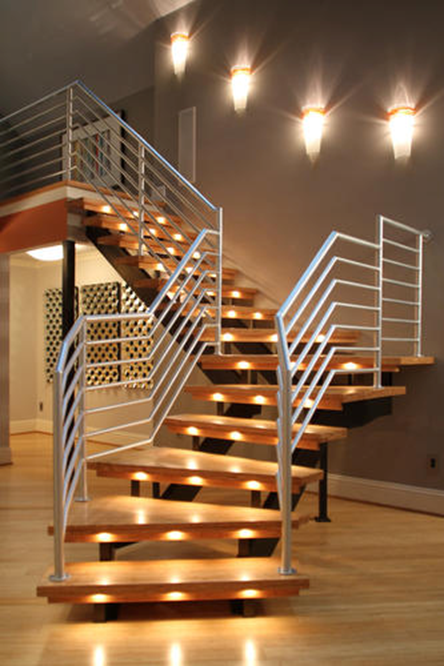 "He wanted lit steps," Mitchell says. "It was not easy. We spent hours with the electrician here trying to figure out how we were going to light the steps and hide all the wiring."
She, by turn, gave the painters fits by having the cathedral ceiling shaded in different tones along angular lines.
"The painters absolutely hated me for it," Mitchell says. "They had to do it with a laser. It was not fun to paint. But I love it. It turned out great."
An open staircase from the second to third level has bamboo treads with custom lighting.  (credit: Nancy Sidelinger)
The third level of this Greensboro townhome is now a loft that looks over the lounge area of the second level. The home has been converted into a very contemporary "New York-style" apartment. (credit: Nancy Sidelinger)