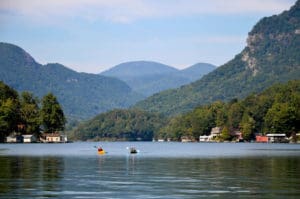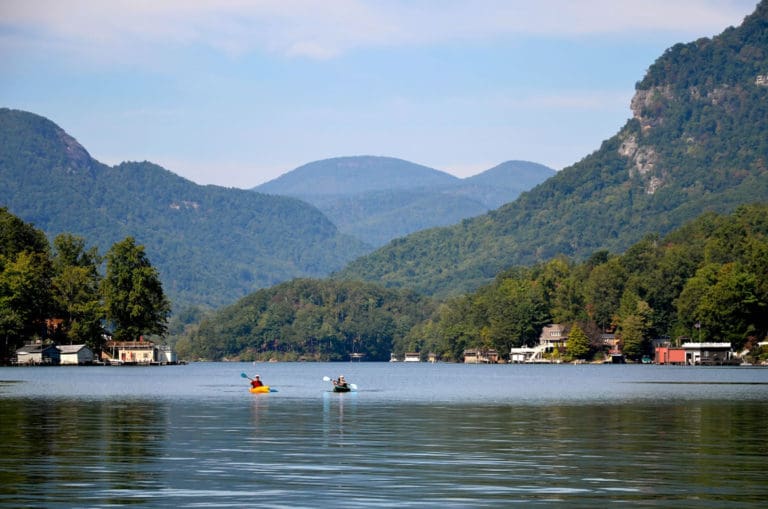 There's something so nostalgic about lake houses—memories of hot summers spent by the lake, autumn getaways to see the rich fall foliage. Lake houses are the de facto settings for big family gatherings, girlfriend getaways, and celebratory weekends.
A lake house is a place that draws people in, wraps them up, and invites them to stay a while. Over the years, we've completed interior design projects for several lake homes – some stunning, some serene, some functional, and some opulent. But no matter your style (or need) we've gathered more than a few interior design tips and ideas for your lakefront home.
Whether you are looking for a fresh and sophisticated update, need to brighten up old ceilings, or want to create a rustic oasis, these lake house decorating ideas will help to expertly blend the beauty of nature into the comfort of your lakeside home.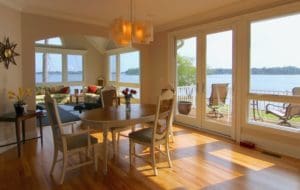 The trick is to keep it simple. Consider a more neutral, simple palette rather than bright window treatments, furniture, and rugs. That way your eyes won't be distracted by the interior, and you can focus on the beautiful lakefront surroundings.
If you have dark ceilings, repaint them in lighter tones to open up the space. Keep the paint on your walls, trim, and paneling monochromatic for cohesion.
For color relief, leave the ceiling white. Feel free to mix and match motifs and styles however you like to create an informal look.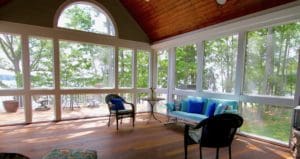 Choose durable seating for minimal worry and upkeep. Our interior design team recommends keeping the color palette in tune with the surroundings to blur the distinction between indoors and out.
If you're planning on entertaining or inviting guests, it's a good idea to add furniture or accessories that can double as extra seating to accommodate a crowd. Consider custom cushions and portable woven cubes for seating in a pinch. For more sleeping space, build bunk beds into the wall.
After a busy day with friends and family, you need a peaceful place to relax. Think of the master bedroom as your serene oasis at the lake. A calming palette is the perfect thing to create this effect. Consider a grey or white scheme. For privacy, opt for soft linen draperies which will allow light filtration and not completely obstruct beautiful views.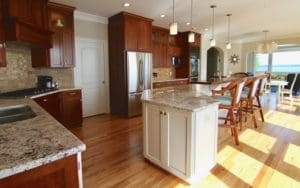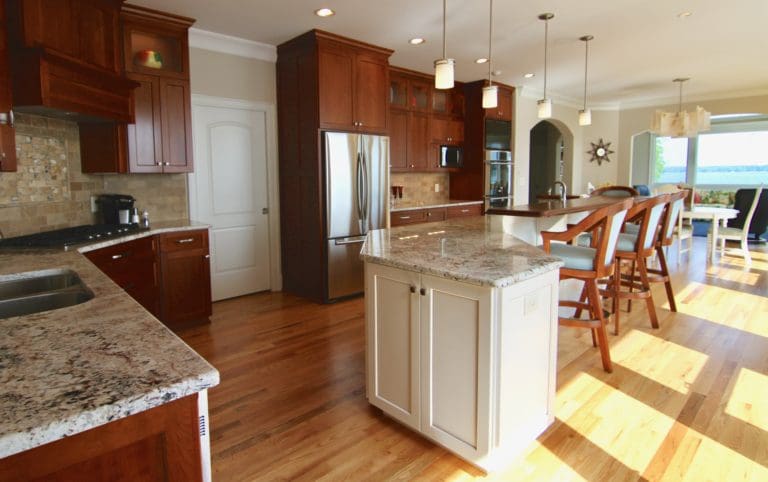 Keep clutter out of your lake house kitchen. Try to keep your dishes and glasses to the essentials.
If you have space, installing a second refrigerator is a great idea for storing drinks and leftovers.
We hope these ideas got you thinking about your dream Lake Home.  Working with our interior designers for interior decorating your lake home can help you bring these ideas and more to your retreat.  Contact us to learn more about our interior decorating experience with lakefront homes. And be sure to hop on over to our Showroom of signature projects and project gallery for more ideas for your lake house.