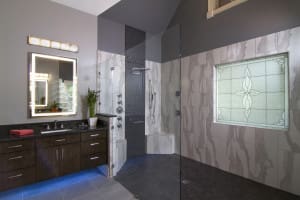 Sometimes adverse circumstances can end up opening the door to opportunity.
When a client's dated bathroom experienced damage from a leak, they decided to take advantage of the situation and do a complete bathroom renovation as well as update the space at the same time using our team of interior designers.
Original Traditional Builder Touches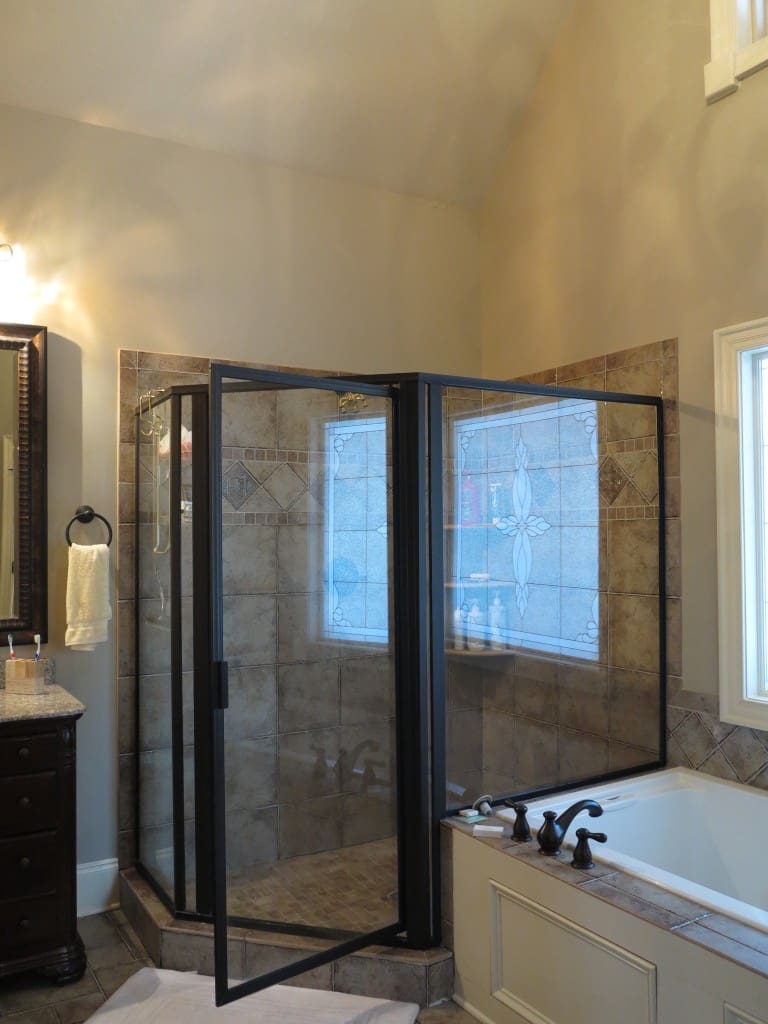 The existing space had a much more traditional look and feel. From the rustic tile finishes to the oil rubbed bronze fixtures, the overall look was somewhat "expected" and had many builder grade touches.
These are not bad elements, however when they are used over and over in construction, they loose that spark of unique design.
That is where a professional interior designer can make a tremendous difference. Using our individual client, their needs, and the space's architecture as our point of inspiration, we were able to create a truly unique design that has never been seen anywhere before because it was established directly from and for this very space.
The clients really wanted to take the space forward with some modern finishes, high end fixtures, and an overall contemporary design. We took it even further with a few surprises.
Take a look at some of the before pictures: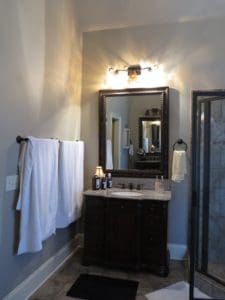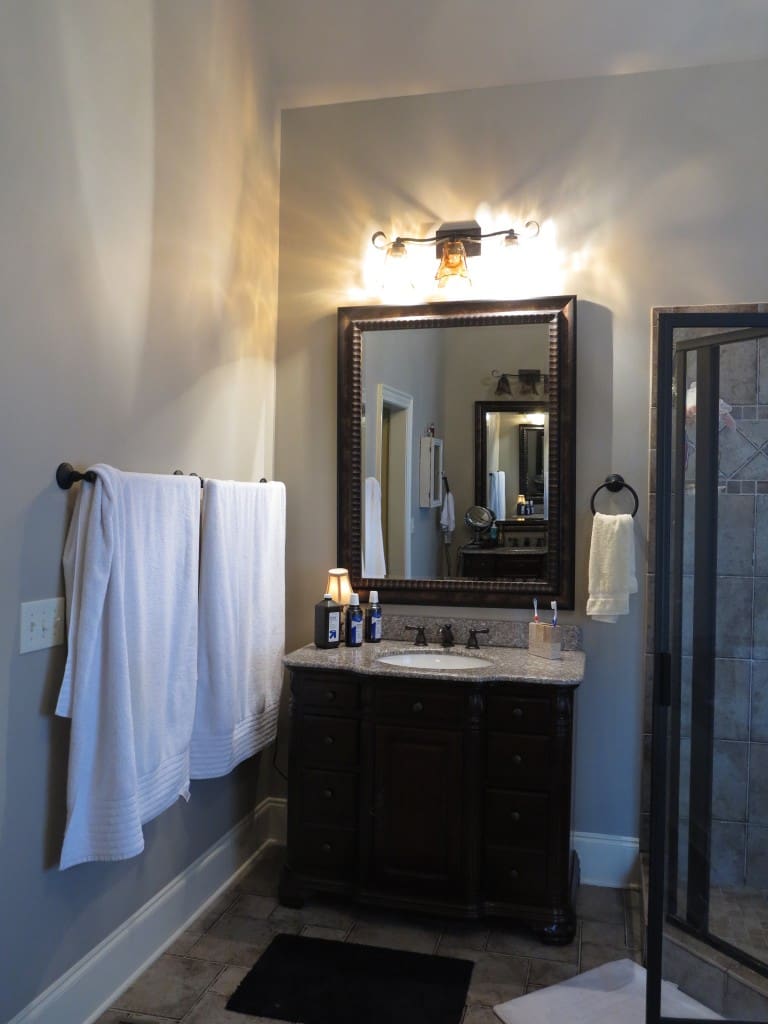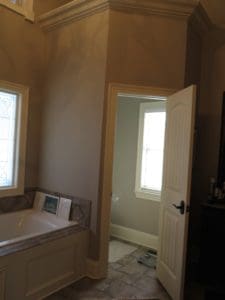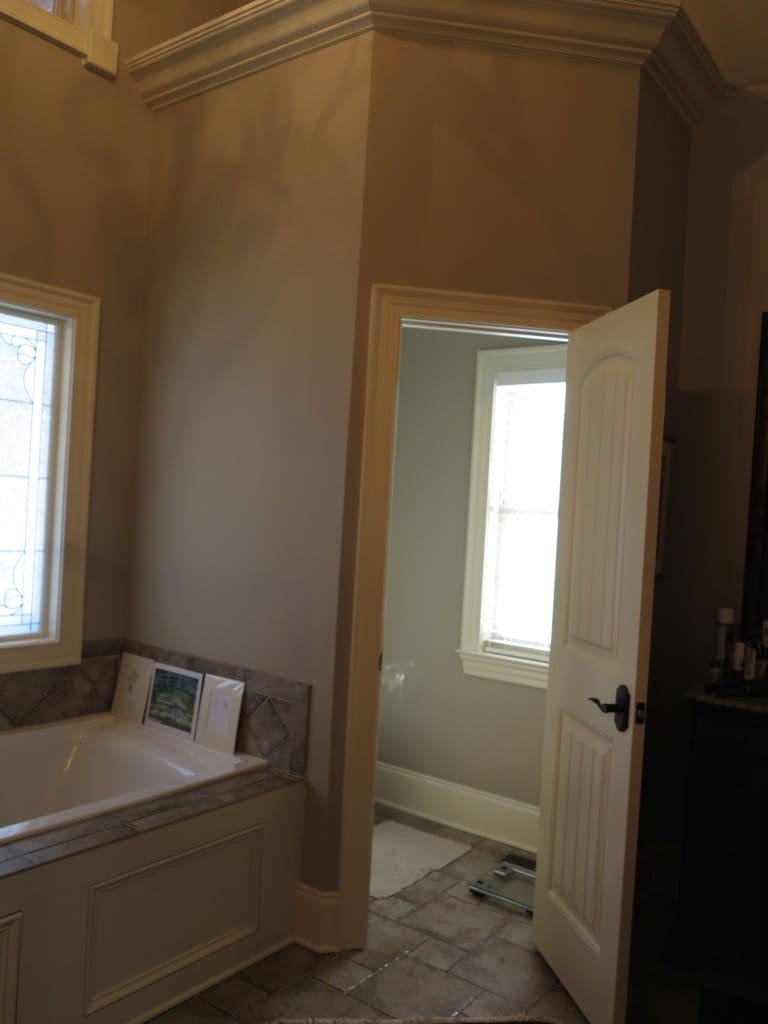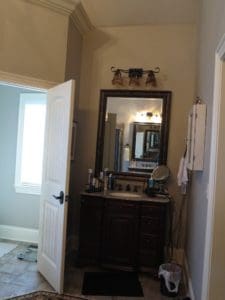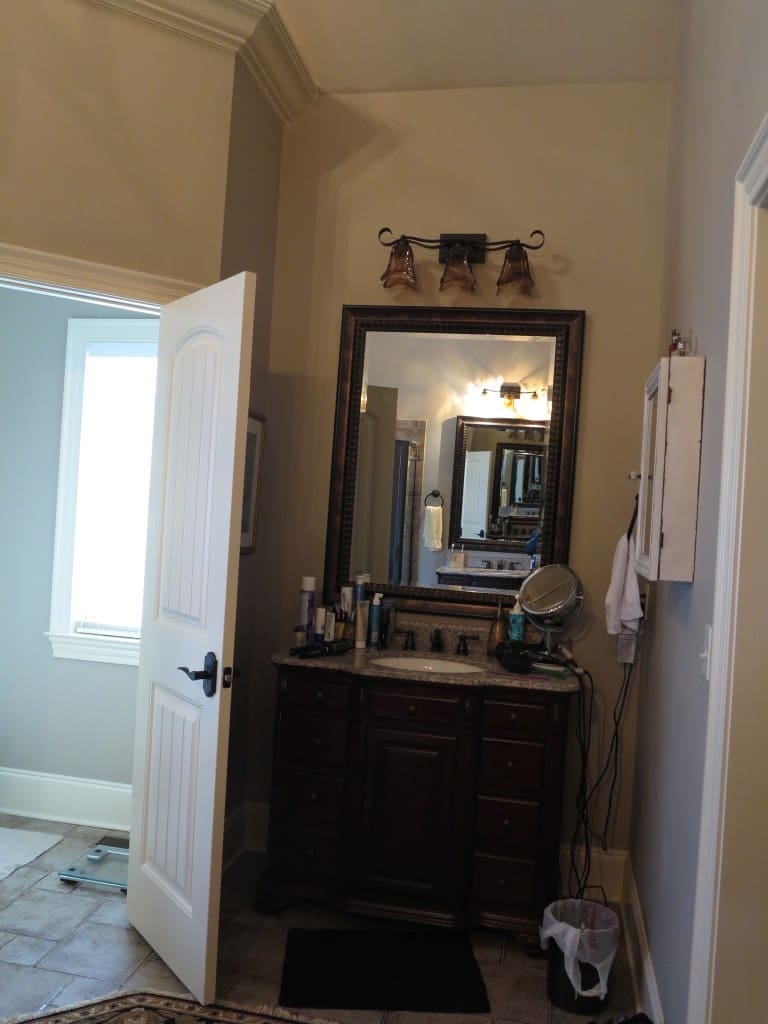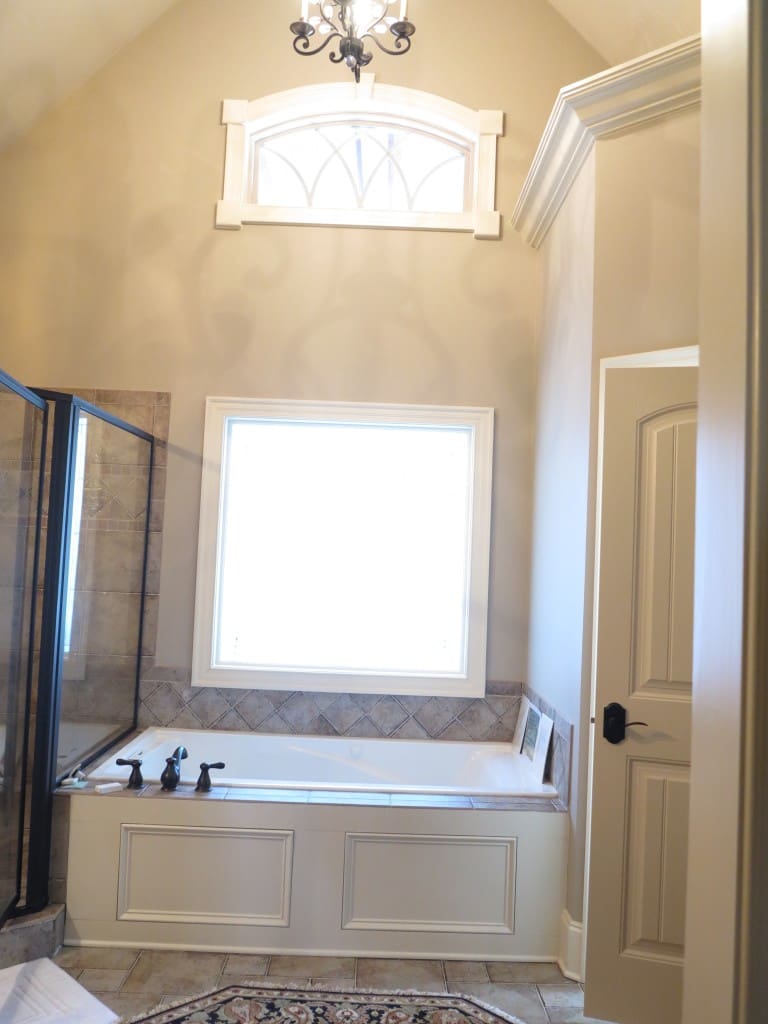 Updated Design with Neutral Color Pallet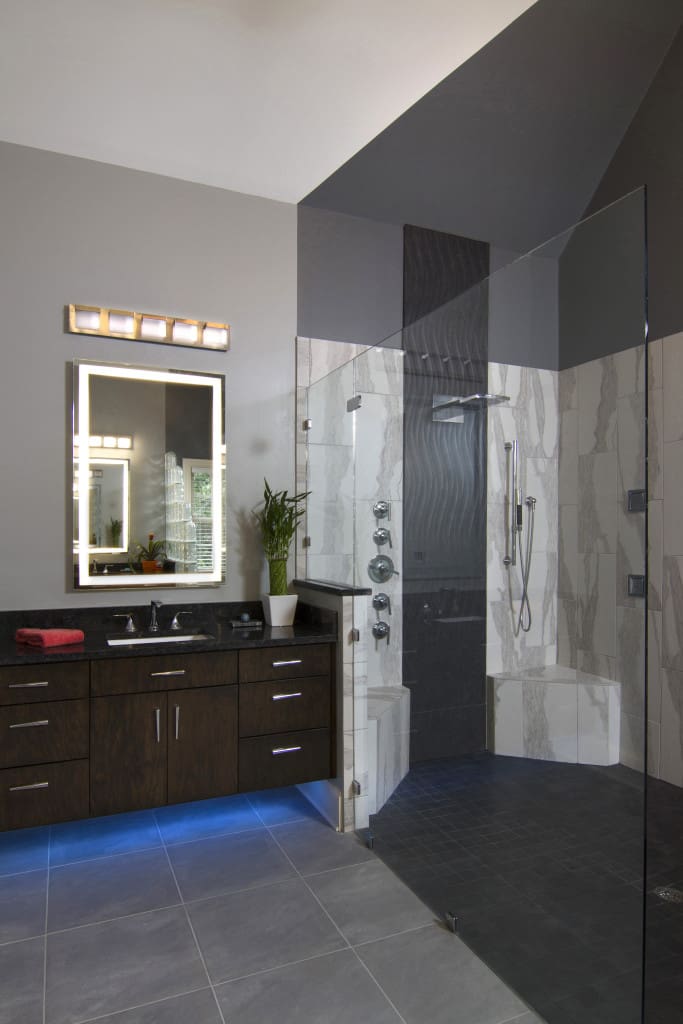 In the updated design, we still kept a neutral color pallet while establishing a few sparks of color throughout the space.
Introducing a contemporary interior does not mean that the space has to be saturated in bold colors. An array of gray hues adorn the wall, floor, and even ceiling planes.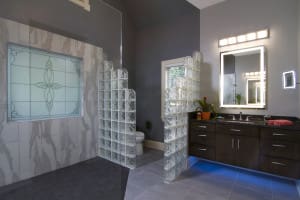 Most of the interest is attained more so through texture rather than color. For the custom wall mounted and suspended vanities, we used a gorgeous dark stained maple with a beautiful grain that looks amazing next to the modern polished nickel hardware, which we used as an eco-friendly substitute for chrome.
Professional Designer Insider Tip: It is often more cost effective to use a professional custom cabinet maker than to buy ready made cabinets.
The mirrors are clean and simple, yet futuristic with their self illuminating border. This aspect pairs nicely with the floating vanities' under-lit "glow". Both of these features highlight some up and coming unique lighting design trends.
Instead of sectioning off the toilet by placing back into a separate space with full walls, we gave it partial walls created with glass block that allows for privacy but allows the light to flow through making it feel more open.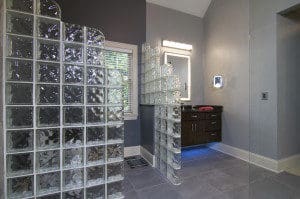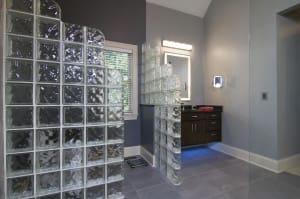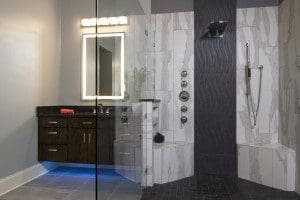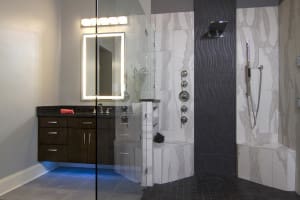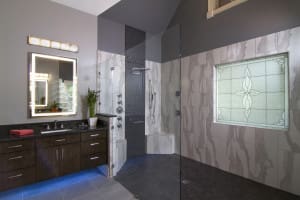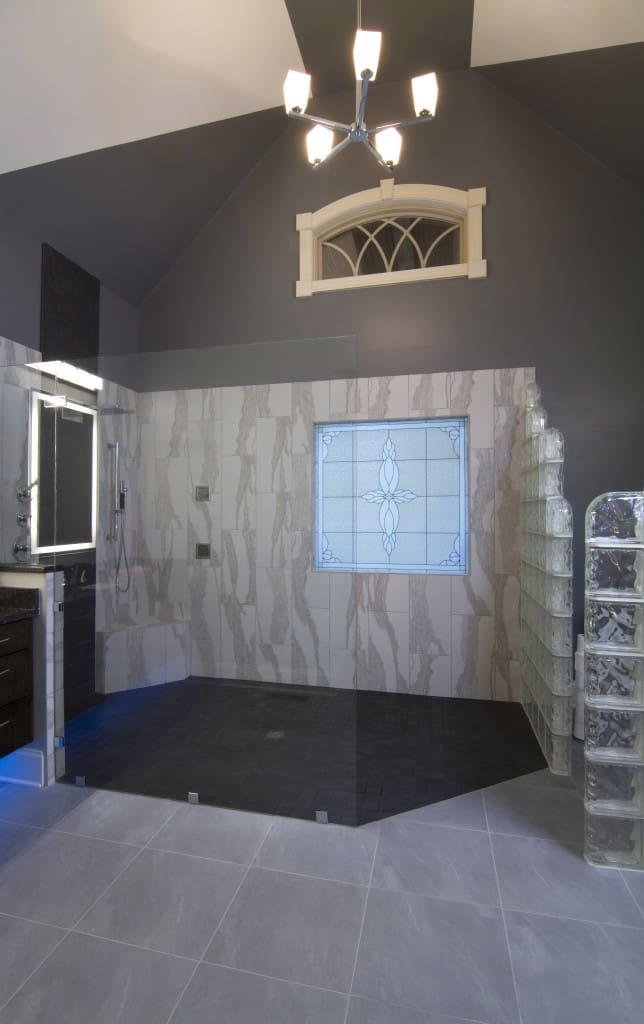 The tile design is one of the most powerful elements in the room. Instead of just using the same tile all over, the tile has been strategically  selected and placed on the floor and walls. No border is necessary. This creates a simplified and seamless aesthetic which adds to the overall modern feel. We used a beautiful porcelain tile on the shower walls that featured a gray organic pattern. The vertical accent in the shower becomes even more powerful when it rises above the shower wall tile stopping point as expected. The three dimensional raised wave pattern mimics the effect of a waterfall. When working one on one with an interior designer, they can create and communicate these subtle design gestures that make a big impact on the overall final design. This space is far from cookie cutter and largely because of elements such as this.
The client no longer wanted a tub but instead really wanted a larger, more luxurious shower. The frameless shower opens up the entire space and is a major highlight in this modern space. Keeping the leaded glass window inside the shower shows that contemporary twist, in that it is ok to mix styles and create a bit of the unexpected.
Take a look at these side by sides to see the complete transformation and the impact it made on this space.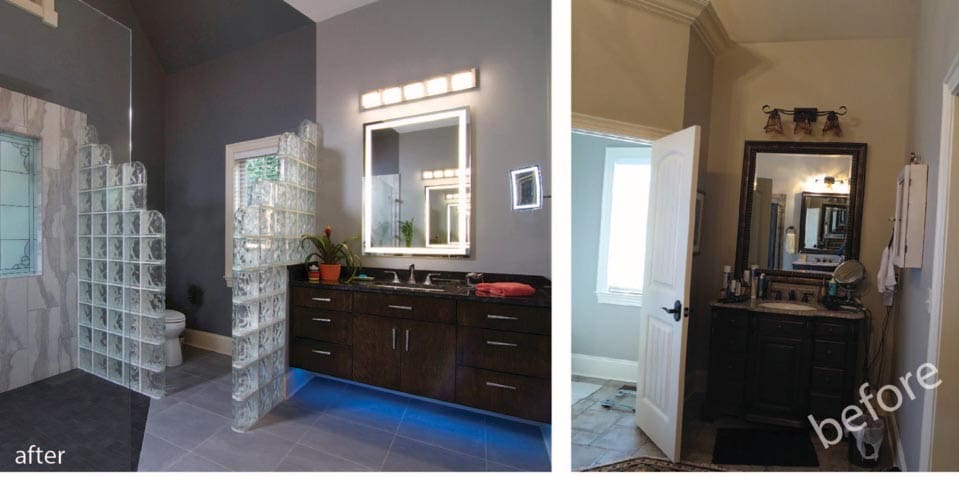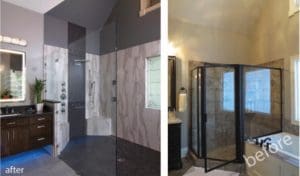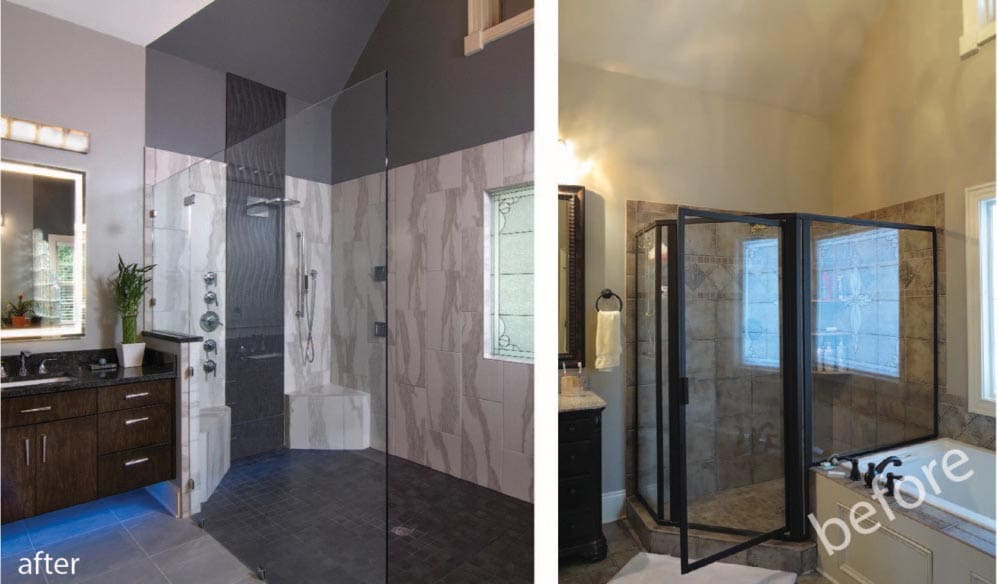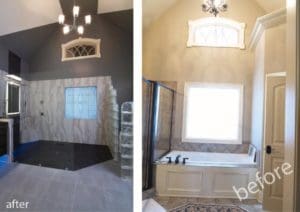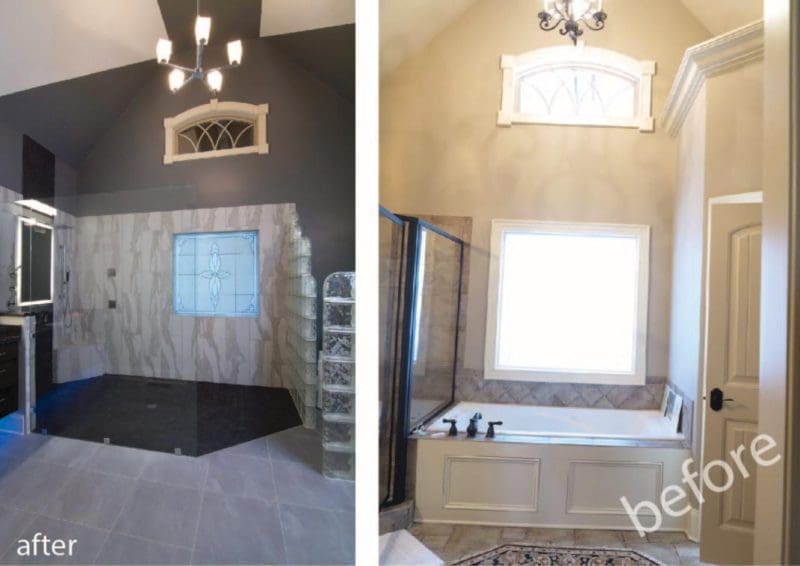 This bathroom renovation is the perfect example of how a utilitarian space we use daily, can be so much more. This room can become a space we want to be in and experience. Is your bathroom becoming a bore? Here are a few things to keep in mind if this post has sparked an interest in a potential renovation for your room. Make a wish list. This is both a fun and helpful part of the process. Your designer needs to know what you need but also what you've really been wanting. Think about your budget as well. Bathroom renovations can become very costly, but this doesn't mean you have to break the bank. You need a designer to help you make the "must have" decisions and then find a way to make your bathroom become your dream space.