Tile is one of the most versatile mediums in your home. Selecting the best tile to use for your new home or home renovation project can be confusing with all the options available today. When it comes to tile selection, there are several factors to consider such as material, cost, placement, and installation. Because tile is available in such a wide variety, it can really bring some exciting character to your home.  Let it speak for your aesthetic and function!
Types of Tile
---
Porcelain Tile
When you think of porcelain tile think bathroom tile renovations, showers, wetrooms, or even outdoor pool surroundings. This is because porcelain tile is very dense; therefore, it's porosity makes it nearly impossible for water to penetrate it. This type of tile is virtually waterproof! The one downside is that because it's so dense, it's also harder to cut. You probably won't be able to use fun, unique shapes when you consider porcelain tile in your decorating.  If you are looking for a tile that is waterproof, and you're okay with squares and rectangles, porcelain tile is probably the way to go!  Cost: $–$$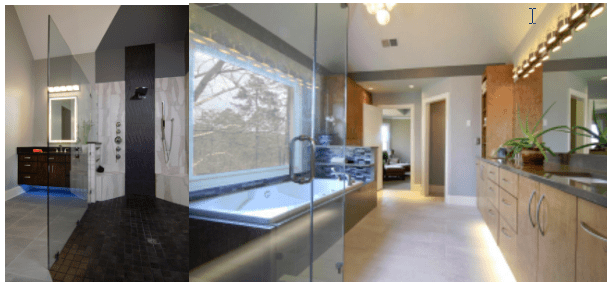 Ceramic Tile
Ceramic tile is very similar to porcelain tile, except that ceramic tile isn't as dense. Fear not when considering ceramic tile in your bathroom, kitchen, or shower, as ceramic tiles are still waterproof. Since ceramic tile is softer than porcelain, you can cut it into fun and unique shapes. Ceramic tile is also a much cheaper option than porcelain.   Cost: $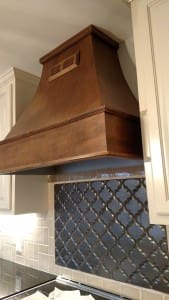 Glass Tile and Backsplash
Glass tile is very pretty, and makes an excellent accent material.  It's perfect for adding pizzaz to your kitchen backsplash, bathroom and shower walls, niches, nooks, and mirrors. However, glass does have one drawback.  Glass tile can be quite fragile, so it's not recommended for use as a floor time.  Glass tile can crack and shatter under pressure and impact. You've seen shattered iPhone screens? Now imagine that on your floor. Not good. Definitely best to keep this type of decorative tile on the walls or accent areas!  Cost: $-$$

Natural Stone Tile
Stone tile has a natural beauty, but with that beauty comes a hidden beast: lack of uniformity. One of the biggest difficulties with natural materials like stone tile or slate slabs is finding enough homogeneous pieces to fill the space.
When purchasing stone tile, request to see all the tiles from the "lot." A lot is all of the slabs and tiles that have been "harvested" from the same area of the stone and will typically have similar colors. Natural stone tile includes: pebbles and stones, travertine tile, slate, onyx, marble, granite tile, quartzite, and limestone. Each of these have different densities, hardness, and porosity affecting the way they can be cut.  Cost: $-$$$ 
Decorative Tile
Over the years, tile has been moving away from traditional aesthetics and towards more non-traditional materials. For instance, using metal decorative tile materials such as stainless steel, copper, bronze, and nickel, will give your space an amazing modern look and provide easy cleanup in high traffic areas. Metal materials are best for kitchen or a bar backsplash. Despite their porous natures, wooden tiles can give a bathroom or kitchen a calming, contemporary look with an earthy aesthetic. Wooden tiles are best for low-traffic areas such as walls.  Cost: $-$$$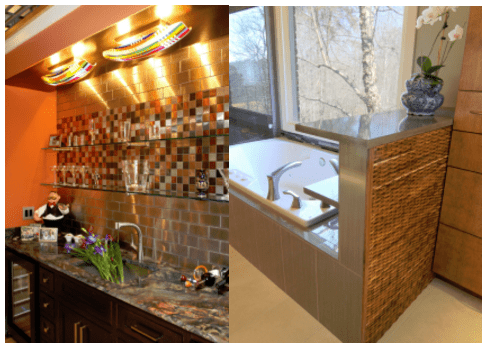 Location of Tile Placement
---
The type of tile and the function of the tile will determine where it should be located. For high-traffic, wet areas, porcelain tile or a dense natural stone tile would be ideal.  Choose a bold colored ceramic tile for a backsplash with pop. Flooring tile in non-wet areas, can be any kind of natural stone or porcelain. Don't forget to check the tile PSI rating when purchasing  to help determine where it can be applied.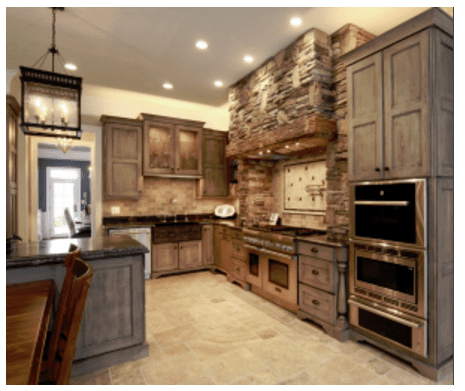 Shopping for Tile
---
When it comes to shopping for flooring tile and decorative tile, there are a few places we recommend. If you're on the East Coast look for companies such as Best Tile, Mosaic Tile, and Florida Tile.  Nationwide, we recommend Daltile, American Olean, or any hardware store such as Lowes Hardware Stores.
When shopping at a tile store (and especially when shopping at hardware stores), be sure to check tiles for any bowing or scrapes along the edges before purchasing. Double check to make sure that your tiles are not damaged in anyway as this can affect proper installation.
Always measure out the square footage of tile needed before purchasing. You may think you can go back and buy more later, but in fact, it can be hard to color match the batch you previously purchased, especially if you're using natural stone tiles.
To be on the safe side, you may want to buy a little more tile than you need in case any of the tile gets damaged during installation or transportation. Though if freight is going to be a large portion of your cost, it's definitely a good idea to keep it as close to the exact amount of tile you need as possible.
The Installation of Your Tile
---
Last, but certainly not least, there is a lot to take into consideration when it comes to installation. For instance, which grout color to use, whether to use epoxy grout or cement grout, and which tile installer to use.
Grout color can be a big factor in a space. If you're looking for something that pops, pick a color that will contrast with your tile. If you're looking for something a bit more traditional, select a neutral colored grout that will match the tile and be less noticeable. Traditionally grout lines are about 1/16"-3/16", so try to choose a grout line that matches the look you're going for with your tile.
When it comes to the choice between epoxy grout and cement grout, a lot of your decision will be based on what is the tile being used for. Epoxy grout is made from epoxy resins and is extremely durable as well as almost completely stain-proof. It's perfect for wet areas such as bathroom floors and showers. Some epoxy grouts are made specifically for glass tile that use a finer filler that won't scratch the glass. On the other hand, Cement grout, isn't waterproof and can absorb water, which makes it better suited for dry areas such as entryway floors.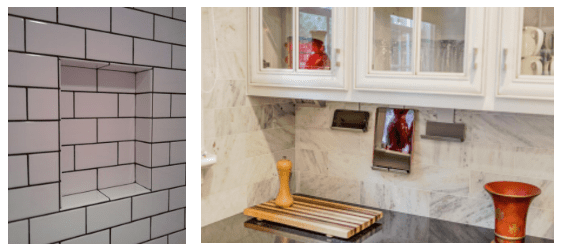 Finally, it's important to choose a reputable contractor to install your tile. I encourage you to shop around and do a lot of research to find the most suitable candidate.  Good resources for searching for a good installer include your local Builders Association or Houzz.com.