Throughout Fall Furniture Market 2014 there were several apparent trends. While walking through the glistening showrooms, these fashionable fads become more and more obvious.
The Combination of Black and Gold
This combination was one of the most predominant themes we noticed.  One could not walk into any showroom without recognizing this craze. From tables to trashcans, and textiles to throw pillows.  So what's the logic behind this fad? Similar to the stark contrast of black and white, the black and gold combination has a similar impact but with a little added glimmer. The contrasting colors are appealing to the eye and can go in a more modern direction or can be taken back to the Elizabethan Era for a more traditional look.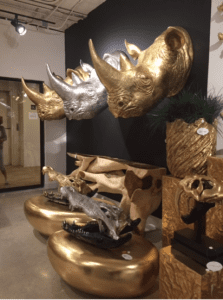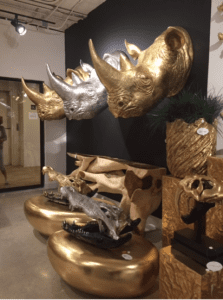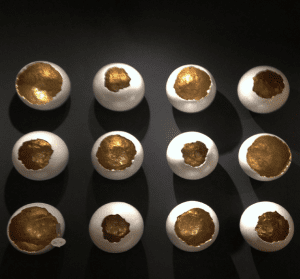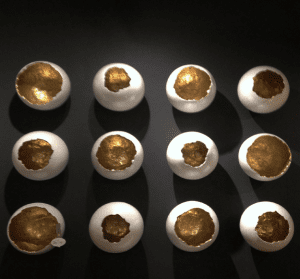 Geodes Big Again this Year
Geodes were big again this market and don't seem to be going anywhere anytime soon.  Four Hands created a one of a kind conversation piece by using geodes as a base for a glass top cocktail table. Global Views combined the trendy rocks with metal hues to create a simple cube-like side table. Design Legacy used geodes to create throw pillows as well, which can brighten up any space, while Emporium Home used geodes in creating innovative lighting. This trend is a nod to the past as well as a fresh new look in the interior design industry.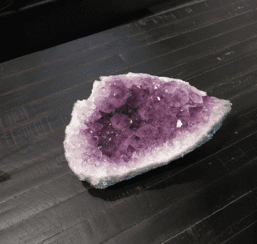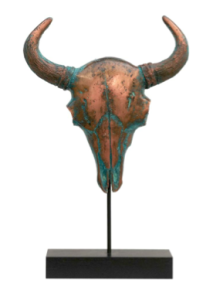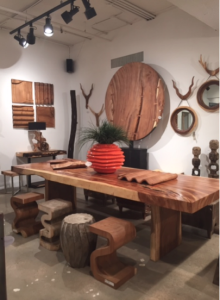 Animal forms and skulls were also a much-exhibited trend. From realistic to abstract these were used as accessories in almost every showroom. Phillips Collection had a wide variety of these and were commonly used in their set ups. Moes also had many different selections for this quirky trend. From hanging to sitting and longhorns to alligators, the possibilities seemed endless. While one may only be able to visualize these stylized mounts in a strictly modern setting, these pieces may be the perfect opportunity to add a bit of unexpected fun and interest to any space.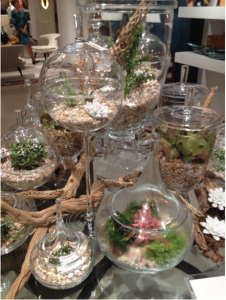 Terrariums and bud vases were also everywhere. Global Views had a wide variety of these items ranging in color and scale. This is a great addition to any room in the home and adds a touch of natural elements while still being decorative.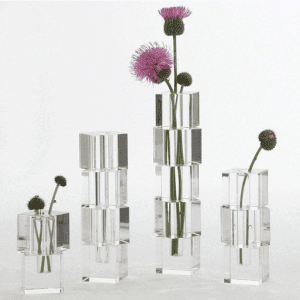 Florals have long been expected as a key element in any well designed space.
The plant life exhibited in these arrangements offer a sleeker and minimalist approach.
Always fun to see what the manufacturers and distributers "think" that the consumer will like next season.
It will be even more fun to see if they are right…