Let's face it, the minute we let a pet into our home and into our hearts, they become a part of the family. It can be hard to say no to our furry friends, and soon we find them making themselves at home and encroaching into every corner of our house. But we don't have to let our homes fall into disarray to accommodate our pets. Here are some steps you can take to ensure a pet-friendly, beautiful home.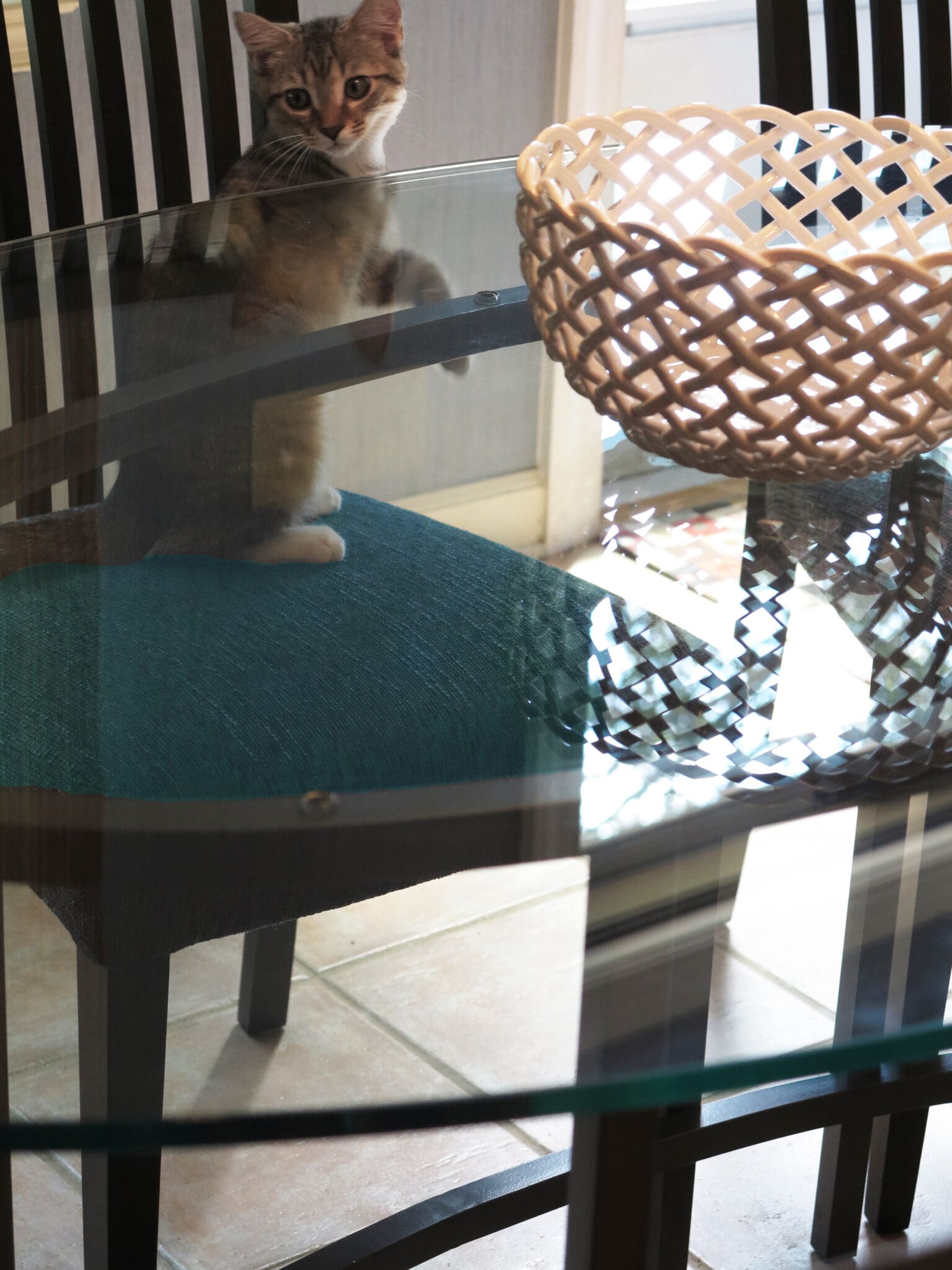 Carpet and Rugs:
When it comes to your floors there are three simple things to keep in mind when choosing pet-friendly carpets and rugs:
SYNTHETIC fibers are the best when it comes to withstanding stains and traffic.

These would be materials like polypropylene, nylon, polyester, acrylic, and olefin which are renowned for their resiliency, colorfastness, and stain-resistance.

CUT PILE rugs will help you avoid snags and runs in your rugs.

No pet is perfect, so there's always a chance your rug is going to be exposed to some digging, scratching, or running. However with no hooks or knots for doggy or kitty nails to hook onto, your rugs can survive a little while longer.

AVOID SOLID BLOCK COLORS and instead pick something with designs,  patterns, or multiple colors.

Even with synthetic rugs and bedding, a solid color is going to show dirt or stains more quickly. A design with more "movement" is going to help mask surface dirt, until it can be cleaned. Sometimes it will even camouflage your pet!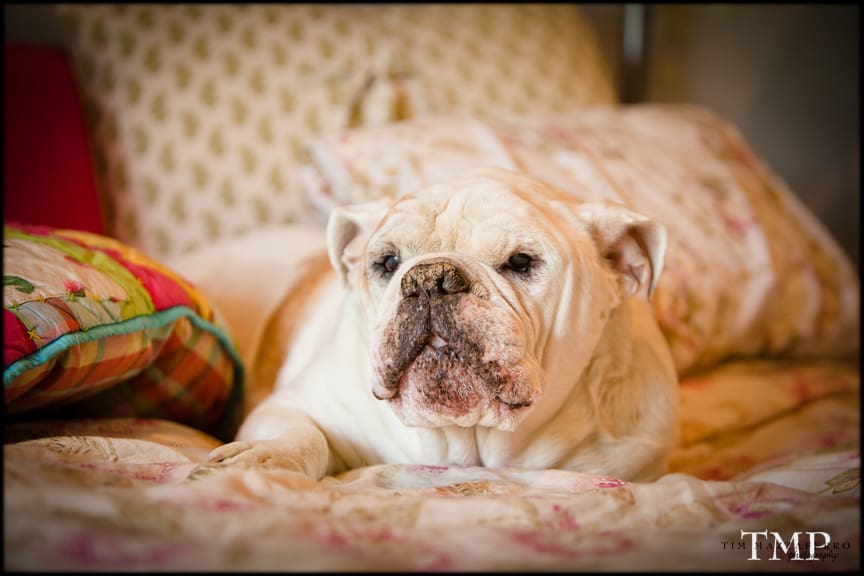 Fabrics & Furniture
You're going to want to keep the same rules in mind when picking furniture as you did with rugs. Look for something upholstered with synthetic fibers: polyester, nylon, and solution dyed acrylics are all fibers that tend to be stain and wear resistant.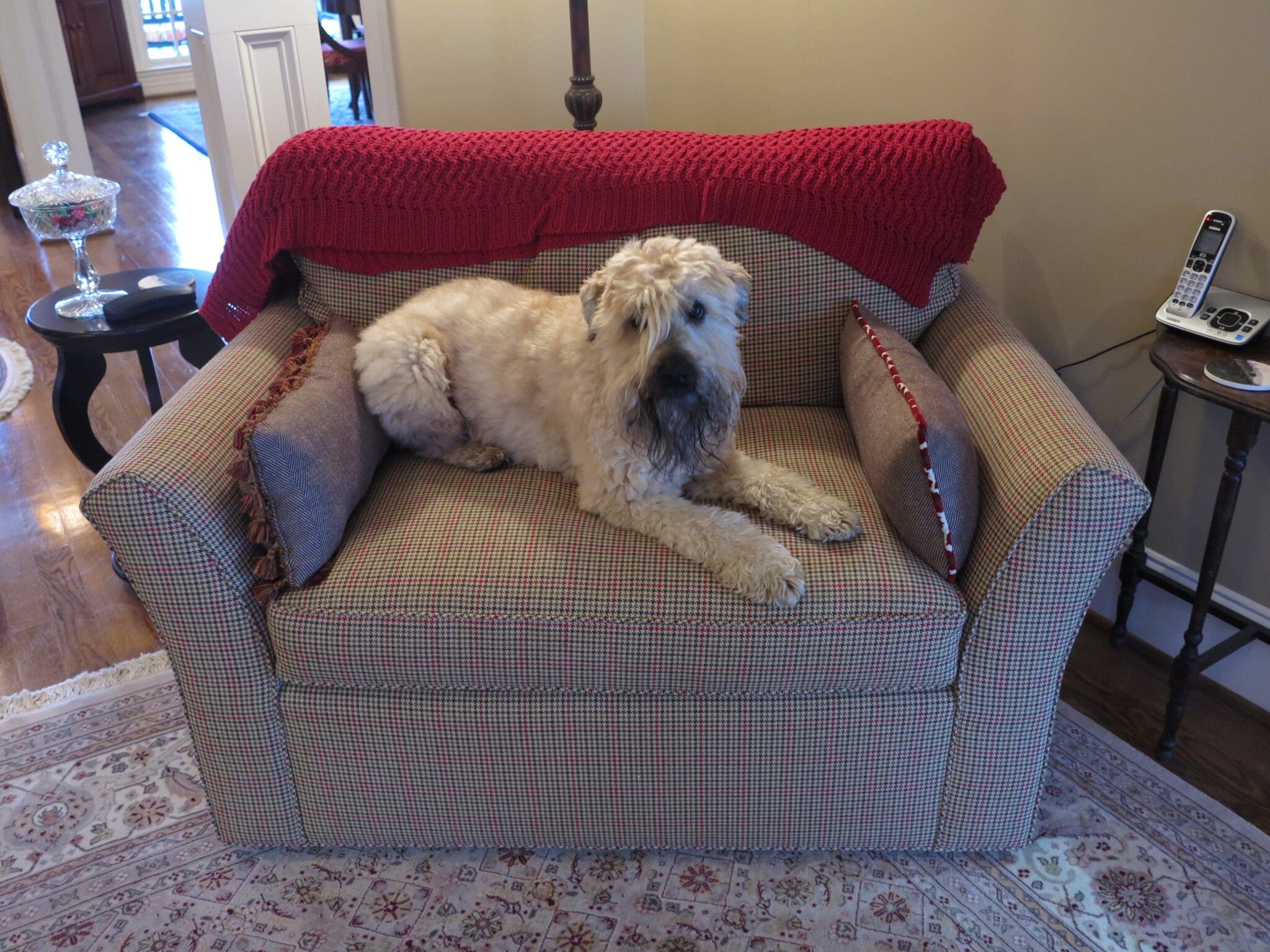 If leather is more your style, consider going with a top grain semi-aniline leather. The dye process for semi-aniline is thorough, penetrating all the way through to the opposite side of the hide. This will make scratches and scuffs less noticeable as the color will be consistent all the way through.
Microfiber or micro-suede is a good alternative to real suede. Micro-suede beads-off liquids and is wear resistant. Not to mention, as it's a synthetic fabric it's available in a vast variety of colors, letting you find the piece that's perfect for your home.
In the cases of pieces with sentimental value, or if you simply don't want to sacrifice real leather or 100% cotton upholstery for the sake of your pets, a throw can be the perfect solution. It can protect your furniture, while letting your pet enjoy their favorite spot.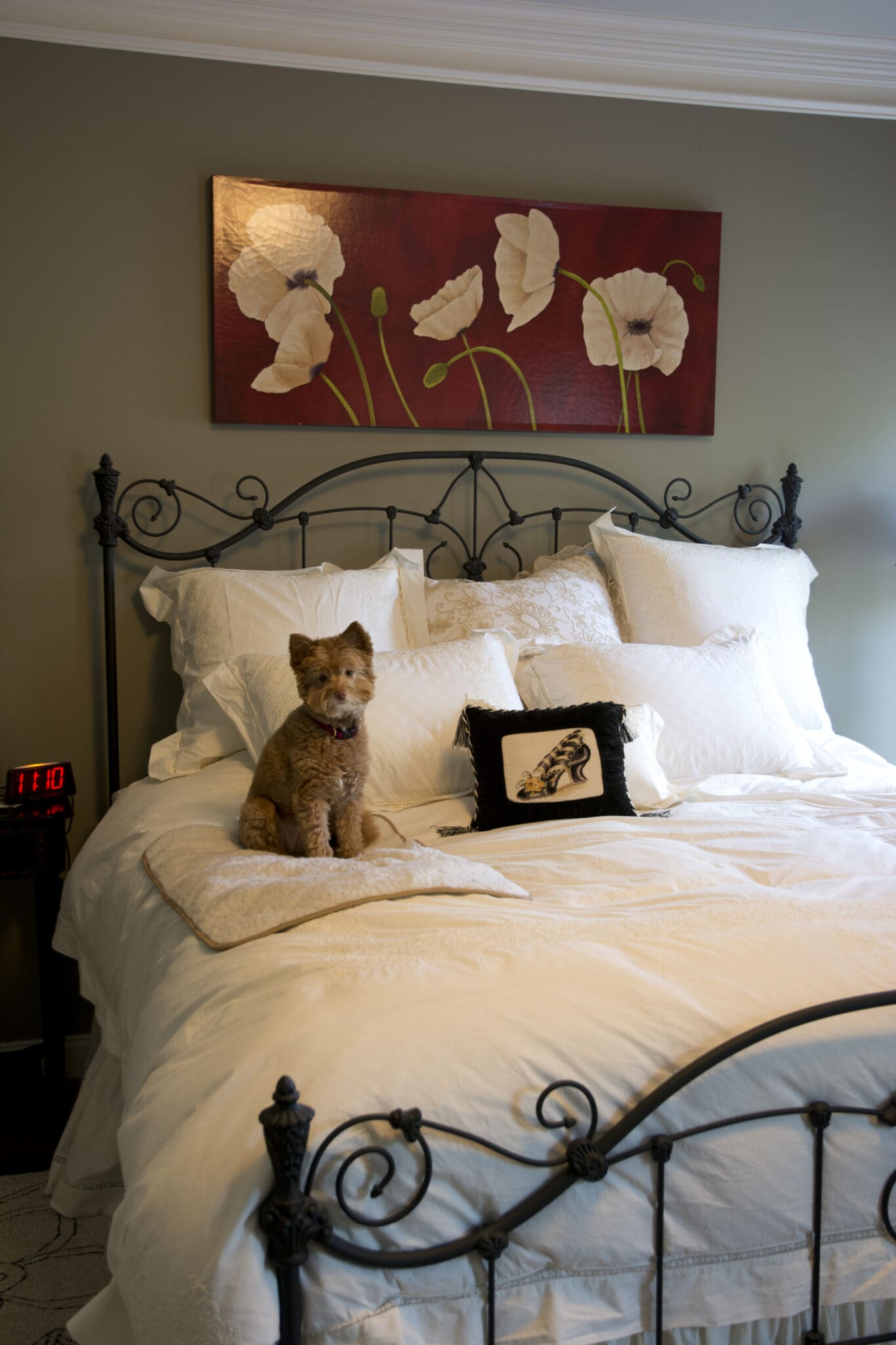 It's important to keep in mind that accidents do happen. So when shopping for end tables, lamps, or other small furniture, be sure to avoid anything that could easily tip over. An over eager pet (or one that doesn't quite know their own size) could not only cause damage to your furniture, but put themselves at risk as well!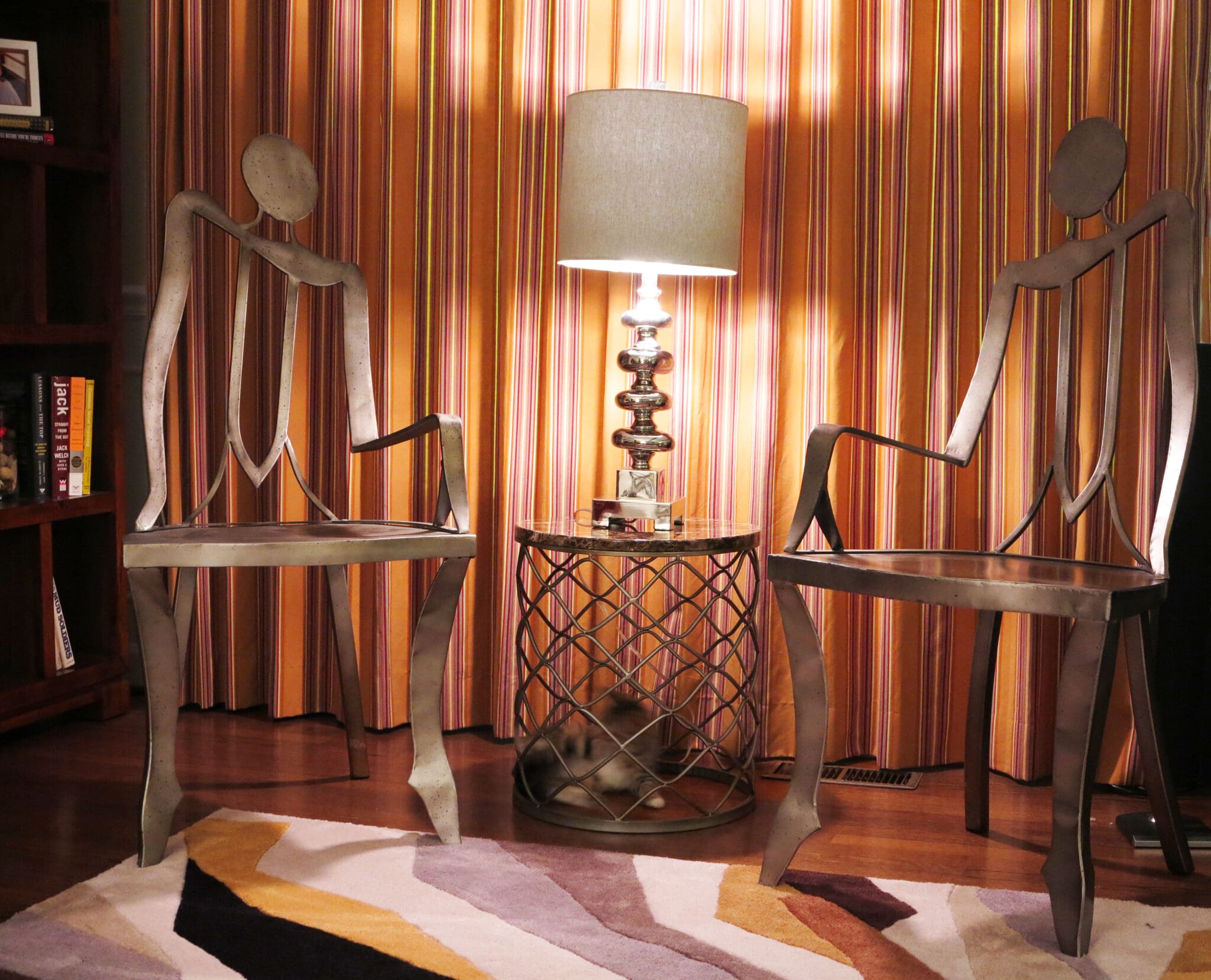 Special Pet Furniture
Part of making your pet at home in your home is giving them their own space. Dogs will spend less time on your sofa  if they have their own bed to call home, and cats will spend less time scratching your furniture if they have their own scratching post to dig into. From cat platforms, to food dish holders, to cubbies, there are endless possibilities when it comes to incorporating your pet's belongings with your own decor.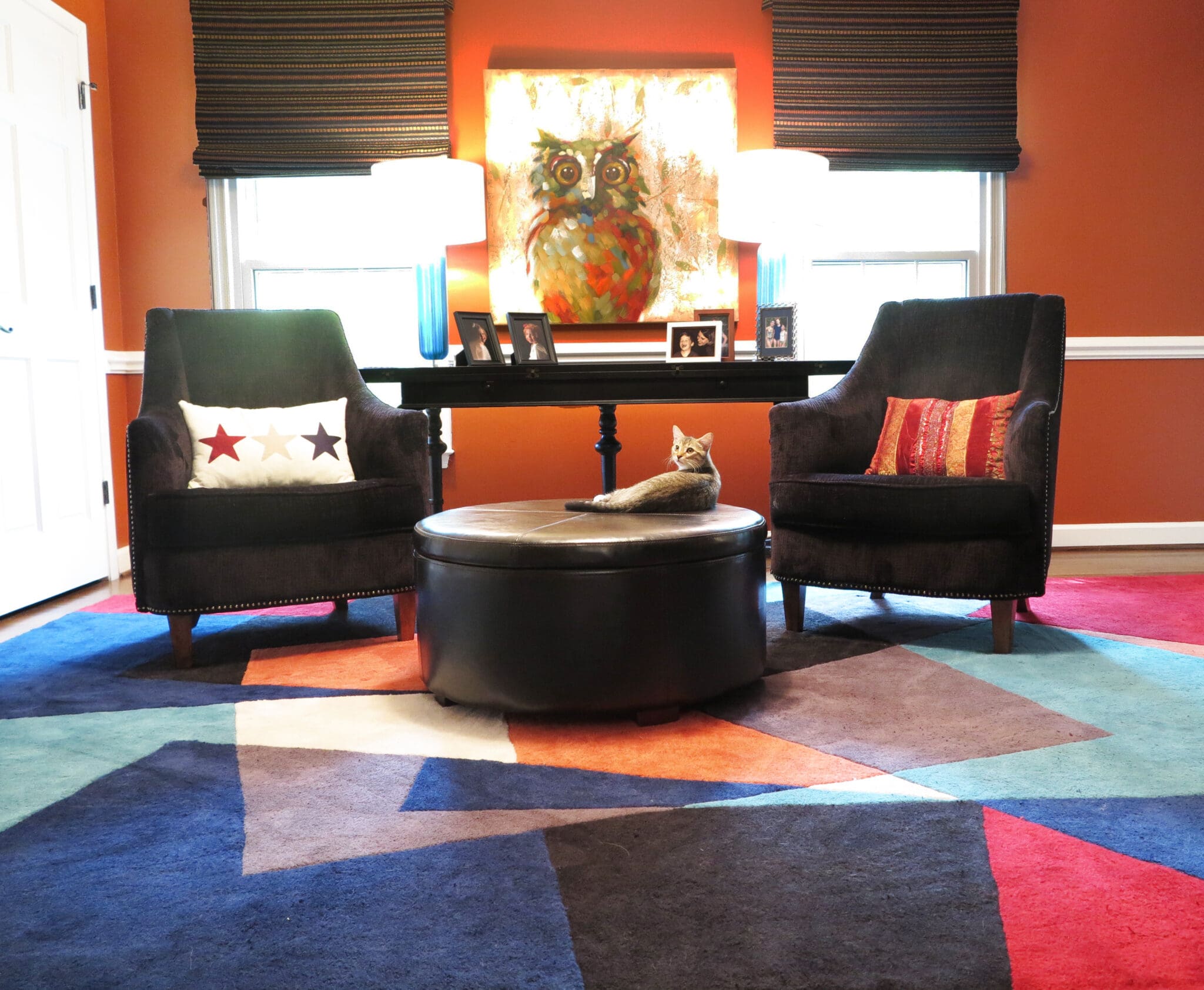 Storage for Pet Supplies
The last piece of advice I have for my clients regarding their pets and design is to keep things organized! Here are a few easy solutions to make that happen:
– Dedicate a cubby in your mudroom to your pet.

– A couple of decorative hooks are the perfect way to organize bags, leashes, and walk accessories.

– Transferring pet food into plastic storage containers not only keeps things organized and looking nice, but also eliminates bug problems and can prevent your pet from getting into mischief.

– Built-in storage can be pricey; purchasing an inexpensive piece of furniture to store all pet toys, food, and leashes is a more budget friendly solution. With this all of your pet paraphernalia can be easily tidied away and kept in one easy-access location.