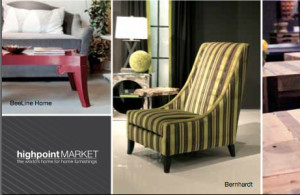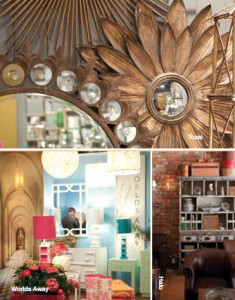 It's that time of year again. Fall Market is upon us. This week, over 75,000 people from all over the world have started gathering in downtown High Point, the furniture capitol of the world and Greensboro's neighboring city. But most people find themselves wondering what is all this excitement about that comes to town twice a year and how does it affect you?
The trade only High Point Market is a time where retailers,  manufacturers, buyers, and designers come together to show and see the season's latest introductions not only in furniture but also in fabrics, finishes, lighting, and accessories from over 2000 exhibitors. While you may not be able to drop in as a consumer, you will be seeing the outcome of the market in a few weeks to months in magazines, stores, and in the design trends that follow.
Almost every residential furniture manufacturer, as well as many manufacturers of rugs, lighting, accessories, and even art will have a show room or exhibit space in downtown High Point, where they will usually showcase their newly developed lines and pieces. Some pieces will show at market and depending on their acceptance, might not ever go in to production. So the show is important as a time of feedback to the manufacturers as well.
Market is also a time for education. There are an abundance of seminars going on daily for the trade to learn more about sustainability, trends, interior design, and business. But it's not all work. Market is known to many as a time to celebrate and mingle. There are even concerts for the guests who come from around the world to enjoy.
So keep an eye out for our next post where we hope to share with you some of the energy from this year's Market.  {All images courtesy  of High Point Market}